Your home for all things Gremlins
While at work tonight, a customer overheard me
discussing Gremlins with another employee, and he showed his love for our favorite film series with this awesome tattoo! This already is looking great, and it it isn't even done yet!
Not only did I discover fellow Gremlins fans that frequent my store, I got to meet one hardcore enough to have Giz on his shoulder! That is quite the nice Christmas surprise!
Digitalspy has put up a "Where are they now" for the cast of Gremlins since it has been 30 years since the original film released. Check it out here: http://www.digitalspy.com/movies/feature/a615460/30-years-since-gremlins-stars-of-the-christmas-cult-classic-then-and-now.html
While most of the information is accurate, it doesn't mention a few points like Glynn Turman's role in the cult-favorite "John Dies At The End" or the Back To The future/Gremlins connections. Of course they manage to sneak in a jab at Corey Feldman's past drug problems, and we are reminded yet again of how much the world lost an incredibly versatile talent in Hoyt Axton (Rand Peltzer in Gremlins)
This sadly seems to be more than Warner Bros has been doing to promote Gremlins' 30th anniversary, and considering the delays on the 30th anniversary edition Gremlins Blu-Ray in some territories, it certainly feels to some fans that Gremlins is nowhere near the priority they feel it should be.
What do you think? Sound off in the comments below!
Thanks to longtime reader and contributor Aelia P. for the tip on this article! Check out her fantastic art at http://www.artbyaelia.com/
JP Cupertino:
A well written view from a Gremlins fan on Gremlins and everything about them!
Originally posted on Bibliotheca Somniare Corvus:
GREMLINS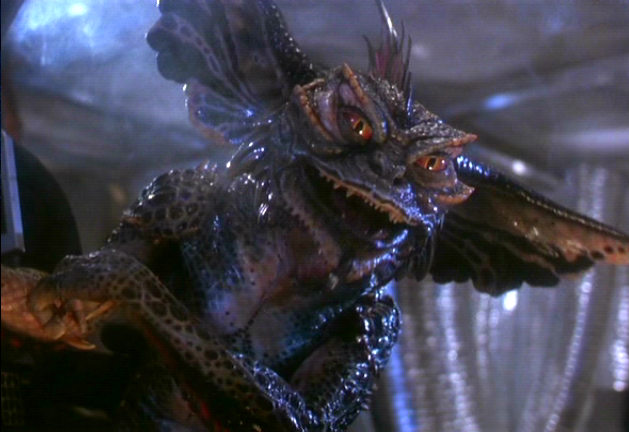 "Evolved" From: Mogwai (Mandarin for "Monster")
Featured In: Gremlins (1984)
Notable Specimens Found In: Gremlins 2: The New Batch (1990)
Voiced By: Frank Welker (Stripe/Mohawk the "Leaders")
To speak of the Gremlins, as I know them, is to first speak of an element of my childhood that can only really pertain to those who had a Warner Bros. Store located in their neighborhood or somewhat close by. In my case, I had the one at the Mall of America where I first laid sight on the Gremlins. Though nothing more than statues littered about the rafters and often caught in the midst of some chaotic scheme, i.e. tearing out some loose wiring, I distinctly remember seeing how each and every Gremlin was unique. One was green another brown and I even recall one barring a finned Mohawk upon his scaly brow.
It wasn't until my early teen years that…
View original 942 more words