Your home for all things Gremlins
JP Cupertino:
A well written view from a Gremlins fan on Gremlins and everything about them!
Originally posted on Bibliotheca Somniare Corvus:
GREMLINS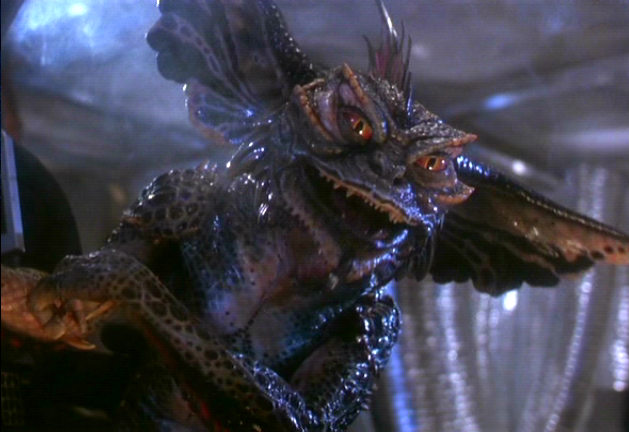 "Evolved" From: Mogwai (Mandarin for "Monster")
Featured In: Gremlins (1984)
Notable Specimens Found In: Gremlins 2: The New Batch (1990)
Voiced By: Frank Welker (Stripe/Mohawk the "Leaders")
To speak of the Gremlins, as I know them, is to first speak of an element of my childhood that can only really pertain to those who had a Warner Bros. Store located in their neighborhood or somewhat close by. In my case, I had the one at the Mall of America where I first laid sight on the Gremlins. Though nothing more than statues littered about the rafters and often caught in the midst of some chaotic scheme, i.e. tearing out some loose wiring, I distinctly remember seeing how each and every Gremlin was unique. One was green another brown and I even recall one barring a finned Mohawk upon his scaly brow.
It wasn't until my early teen years that…
View original 942 more words
Long time blog-friend of Gremlins Online, Dinosaur Dracula (Previously known as the amazing X-Entertainment) is continuing his always-entertaining Halloween Countdown and finally I have a reason to post about it here!
If you aren't familiar, Dinosaur Dracula is a staple website for those of us who grew up with Gremlins, Ghoulies, Critters, He-Man, Ghostbusters and other pop culture icons of the 80′s and beyond. Matt, the creator of both Dinosaur Dracula takes us down a path of nostalgia in his own unique manner and thankfully a lack of snark that seems to pervade the internet these days. Matt genuinely loves what he does and it shows in the effort put into his articles.
For today's entry on "Dinosaur Dracula 2014 Halloween Countdown" Matt shares the third installment of spooky action figures from his childhood (and ours, naturally.) If you scroll down a bit after reading the entries, you will see a familiar Chef from Gremlins 2; Lenny! He talks about the Applause figurine line that was pretty much all we got here in the states for Gremlins 2 toys. I remember buying my Gremlins 2 Figurines at the hospital gift shop at St. Luke's in Milwaukee, as well as Steins Garden & Gifts in brookfield. Seriously, do you know how hard it is to make up a reason as a kid to go to a garden store? I'll tell you: It was very difficult.
So check out the link below and read the rest of the countdown. Gremlins are all over his site, don't be afraid to search the archives foe memories of toys and fads long gone.
Hey folks
I was reading a Fangoria from 1984 last night and in an interview with Chris Walas there was mention of some scenes shot but unused regarding a running gag with the Flasher Gremlin. Apparently he would open his coat and have a bunch of watches on the inside as if he were trying to sell stolen merchandise (in oh-so-80′s fashion). 
Have any photos ever popped up online of this scene or any of the other flasher gremlin gags? 
This also got me to thinking about the entire Dorry's Pub sequence. Everyone knows that there were over 120 different gags conceived by the cast and crew for this legendary shoot, but is there a compilation of the pub scene that could have been if the budget was there and time wasn't a constraint? 
NECA has an incredible booth at SDCC '14, and while Gremlins Online isn't there, our friends at figures.com have their hands full getting the poor souls of the internet all the pictures they can handle.
Check out their site for some exciting new Mogwai based on the early prototypes. Doesn't look like any Gremlins Series 3, but there are still hundreds of incredible shots of  many many more figures, such as the long-awaited Ripley figures from both Alien and Aliens! (Maybe we will get a Vriess figure someday…one can dream….)
There are more photos of the prototype mogwai on their site, so head on over and take a peek.